Attend the 2017 Biennial PPA Conference!
Thursday, August 3 – Saturday, August 5
(Pre-conference session Wednesday, August 2)
The Meadows Events & Conference Center
at Prairie Meadows Hotel, Racetrack & Casino
Des Moines, Iowa
A guestroom rate of $129.00 per day for king or double queen occupancy will be in effect throughout the conference, in addition to three days before and three days after the actual meeting dates. Current tax rate is 12%. Prairie Meadows will provide free shuttle service from Des Moines International Airport, complimentary Internet access and no charge for parking a vehicle. To make room reservations, please click on the link below or call 1-800-325-9015 and use group code 08022017APW.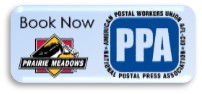 This intensive four-day event will help you and your organization:
Better inform and educate members and their families.
Create a communications system that will stimulate membership participation and build a stronger union.
Conquer the challenges of public speaking.
Learn how to establish a working relationship with the media & methods for generating public support.
Develop highly effective internal & external communication strategies.
Map out ideas for developing an editorial policy.
Explore the subject of electronic communication and how it can complement a print publication.
Avoid costly lawsuits by studying the subjects of libel, copyright and internal union elections.
Infuse the union's publication with style and personality so members will read every issue.
Harness the tools for conducting interviews that get noticed.
Become skilled at writing news stories, eye-catching headlines and high-interest feature stories.
Discover how labor history can be used to improve union involvement.
Master techniques for reporting on issues affecting the membership.
Inspire union loyalty through the art of photojournalism.
Use communication as a means to stamp out membership apathy.
Meet others who perform similar work and share experiences, problems and ideas.
Get recharged and eager to put dozens of new communication ideas to work!
All of this and much, much more!
Quote of the month - January

"One who condones evils is just as guilty as the one who perpetrates it."

--Martin Luther King, Jr.